No label should ever predetermine an individual's capacity for growth, development and achievement in life.
MahaDevi Yoga Centre is the Home of Yoga in Islington
Welcome to MahaDevi, Roberta Sumar Yoga Centre, the first yoga centre in Europe dedicated specifically to offering Yoga for the Special Child® - the Pioneering Yoga Therapy method for Children and Adults with Special Needs developed over 47 years ago by the renowned senior yoga teacher Sonia Sumar (Sivakami) .
Yoga for Special Needs
We offer low cost 1:1 therapeutic yoga sessions to the population of special needs. Our therapeutic yoga treatments are open to all families with children with special needs including Autism, Down's syndrome, Epilepsy, Prader-Willi syndrome, Hemiplegia, ASD, ADD, ADHD, Eye Impediments, ME, Sciatica, Cerebral palsy, Speech impediments, behaviour challenges, wheelchair users and many more. All our yoga therapists have directly trained with Sonia Sumar, Founder of Yoga for the Special Child® .
Regular yoga classes for adults
We offer regular adults yoga classes as a way of supporting our work with the children with special needs. When you attend a class with us 50% of what you gives goes to MahaDevi Fund, set up purely in order to support those families who cannot afford a therapy session for their child. Your practice goes a long way, every move you make on the mat is a gift to another being in need. We also offer pregnancy yoga , monthly kirtan and specialised yoga teacher trainings. All our yoga teachers have trained in Traditional Hatha Yoga - the root of all modern yoga styles.
Yoga for The Special Child - Sonia Sumar Method
Every child can benefit from yoga, no matter what their challenges in life are.
Yoga for the Special Child Method improves muscle strength and balance, increase motor functions, promote flexibility and correct postural alignment, increase self awareness, promote calm, organised mental states. ALL contributing to a happier and healthier child. MahaDevi is open 7 days a week and we see children for yoga therapy every day. Drop us a line and we will do our very best to find a way to meet your child's needs.
" Thank you so much for the amazing class! I can see Felix improving every week! Long it may continue!"
Bridget, mum to Felix who has severe Epilepsy
We offer a unique and specialised Yoga Teacher Training Programs "Yoga for The Special Child - Sonia Sumar Method" which is build of two parts Part 1 and Part 2 offering you the chance to learn how to teach yoga to children and adults with Special Needs.
We also offer a 200hr Yoga Teacher Training in Classical Hatha Yoga, both led by Sonia Sumar as well.
Sumar is a worldwide recognised senior Yoga Teacher with over 45 years of experience and the founder of the First ever Yoga Therapy Program for Special Needs. Many of the current Yoga therapy approaches were inspired and originated from the training Sumar offers worldwide.
Her life long dedication to yoga for Special Needs is inspirational and has changed the life of many. Come train with us and make a difference in the life of many.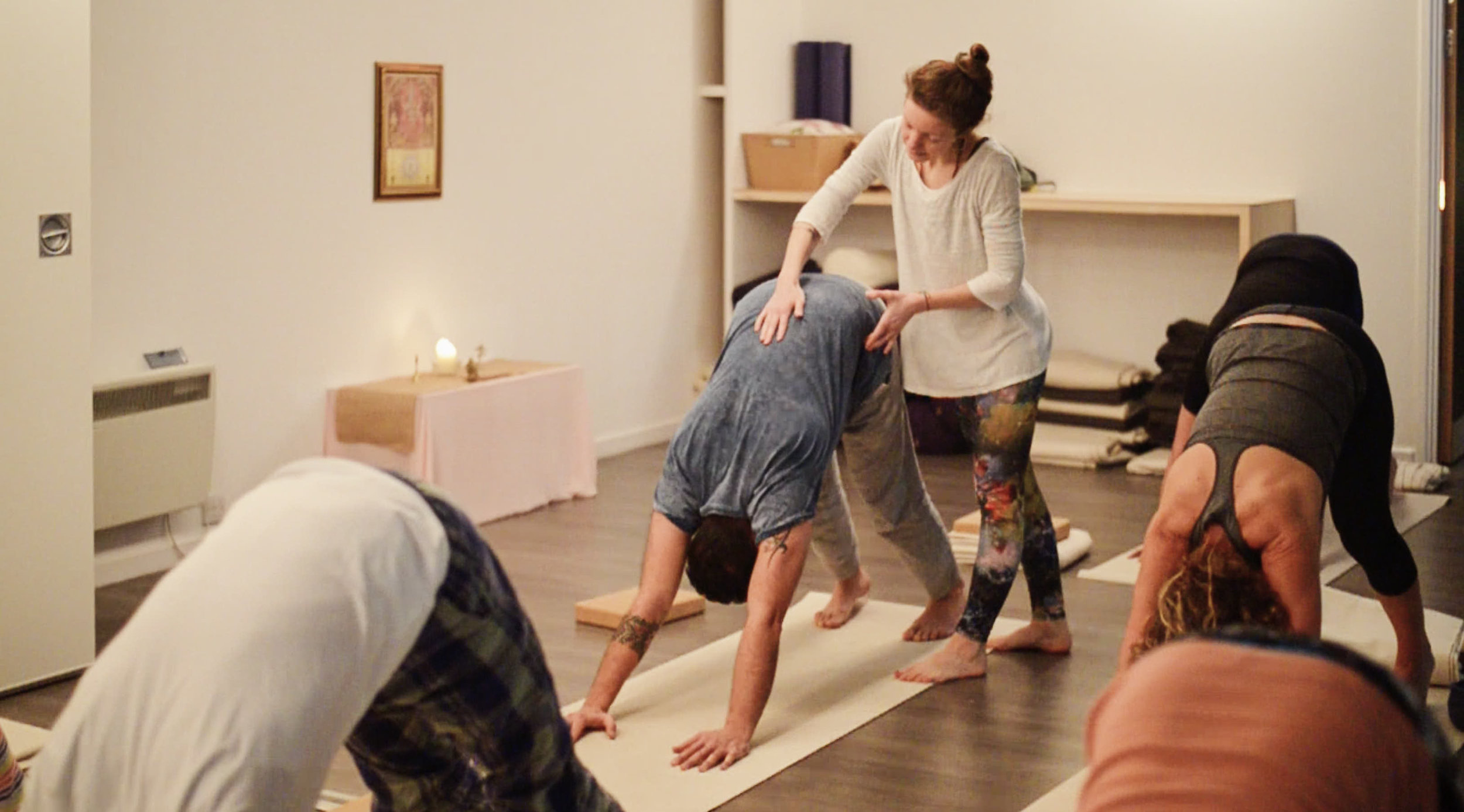 Before 9:00am and after 6:00pm our centre becomes a space where we offer Traditional Hatha Yoga classes for the general public. We were listed as one fo the Top 10 best Yoga Centres in London in TimeOut so we must be doing something right !
50% of what you pay for class goes directly to the MahaDevi Fund and makes it possible for a child with special needs from a low income background to attend a yoga therapy session weekly.
Have a look at our timetable, come and say hello and get on the mat! We offer Beginners, Intermediate and Open level classes and Pregancy Yoga.